Posted 1st May 2019 By Louisa
When it comes to that big special day, each bride-to-be wants every single detail to be simply perfect. And who can blame them? It is, in fact, one of the most special days in every couple's life and what better way to make it that little bit more unique than with your own creations. Looking for inspiration? Well, that's what we're here for!

I invite thee

You're engaged to be married. Congratulations! Are you ready to get your thinking cap on? We are. Let's start planning.
Before we go in too heavy, let's start with the first thing you'll need; wedding invitations. Make them simple, make them elegant and make them very much you. Using our medium bullet tip Posca pen in gold, you can begin outlining yours.

Your name is?

Is your wedding a big fat Greek wedding? More than likely no. So why not start by personally handwriting the names of your guests? Now if your wedding is of a larger size, you can easily just focus on creating the name placements for your bridesmaids as well as your maid of honour. It will be a piece of memorabilia they can keep forever from your special day. Get those swirly lines just right with ultrafine bullet pen in white from our Posca range. @jowong_draws shows us how to do this in many easy ways.

And the time has come…
As the big day approaches, you should always remember to relax as much as you possibly can. It is one of the biggest highlights of your life but it is also a great day of having your loved ones around you. The best thing about it? There's no need to choose sides anymore, how great is that?

Tick Tock, around the clock
Everyone loves a schedule. Let your guests know where to be and at what time. Party o'clock is just around the corner! Choose the surface you prefer and write out your time schedule. Make those thick lines stand out with our Securit® duo pack in white.
Let the fun beGin!
Once the nerve-wracking part is over, show your sense of humour and let everyone know it's time to party! @thelittlewhitecow is great for all your fun wedding inspiration. Start your creations with our Posca range and choose the pens that best suit your style.

Left or Right?
A little bit of DIY goes a long way and it can also show you what the future may hold in store. Brighten up your day and be extra bold and colourful with @happilyevercapturedhalifax's beautiful wedding snap as inspiration. Go ahead and write yours with our Securit® waterproof markers. No doubt your wedding will be a success!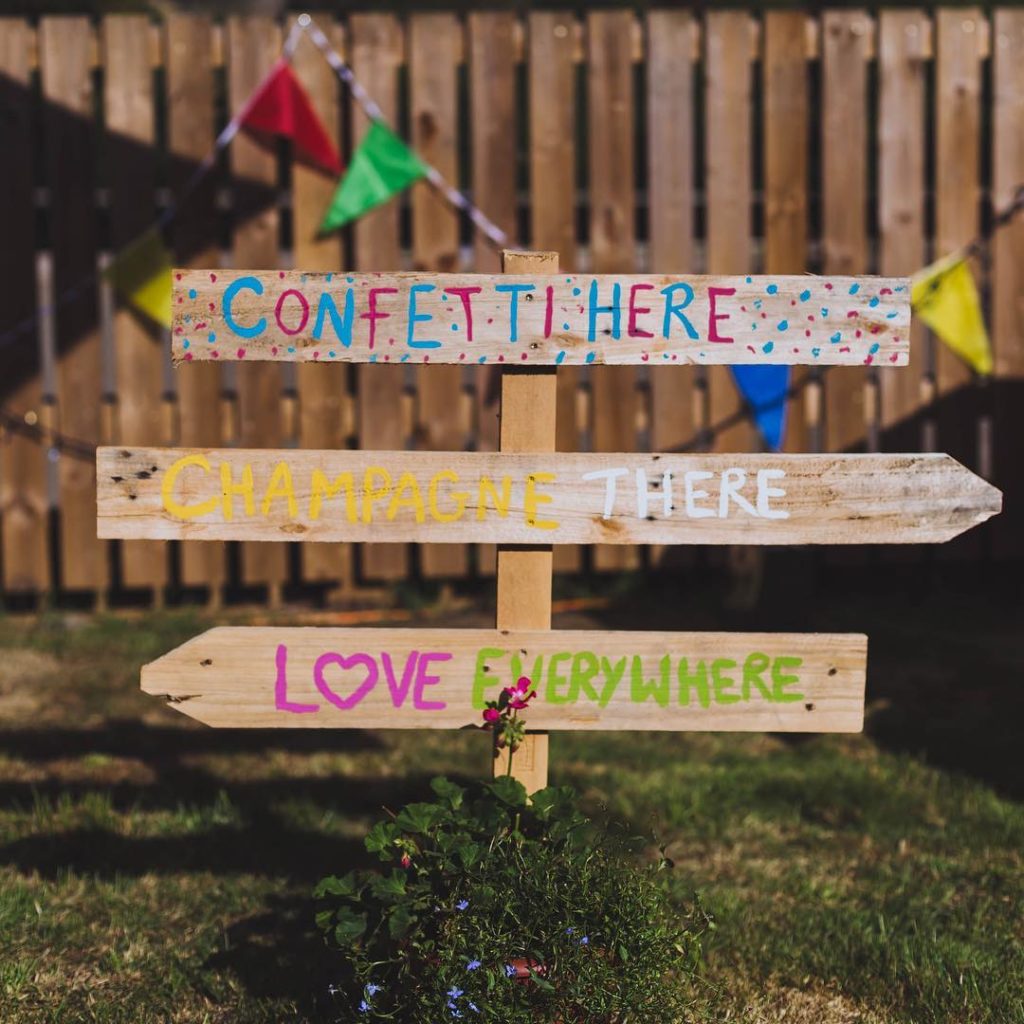 After dancing, comes eating
After all that dancing and drinking, it makes sense to fill your rumbling stomach. Why not entice your guests to grab a bite before more dancing with some delicious food. These boards by @bymelissajoy and @littlenipperco are giving us so much inspiration. Grab your Chalkpens and get started!

We have to admit we are feeling a little bit hungry just now…

Snap it like it's hot
We all have that one side that doesn't do us justice and we all know the wedding photographer is everywhere (Seriously, how do they do that?). Add this fun idea for your guests to let loose and snap their happy moments while shake, shake, shaking it like a polaroid picture.
Leave your mark
While the party is in full throw, remind your guests to write down their wishes. Keep the memories of your special day alive for years to come. Many people go down the traditional route and create a wedding book, we believe this wedding board may just be the new best thing. Inspired by @bymelissajoy
If you didn't Instagram it – it didn't happen, right?

Finally, we all love sharing our happiest and best memories on our own social accounts. Get your lovely guests in on the fun and ask them to use your special hashtag. Now, anytime you enter your hashtag, you can go back and reminiscence on all those pictures from your beautiful day. Use @jadeamyartsandstationery's creation as your inspiration and start writing yours with our Carb'Othello pencil in neutral black which is also perfect for drawing any smaller and more detailed design. Grab the colours you love from this great range today!