Posted 16th May 2019 By Sofie V

Are you a fervent planner, listmaker or overall creative looking for some great journaling inspiration? Well, you've come to the right place.
In this post we gathered 12 of our favourite spread designs and we've also added some great tips on how to achieve those styles.
Save the date
First, we're looking at some great examples for logging events, tasks and important dates. Both of the examples below are monthly spreads and have a similar colour pallet, namely black and white. We love the contrast that these designs add as well as the white letters on a black background. The most important part of looking for supplies to create a design that is similar to these, are choosing pens that are opaque. From experience, we know that paint pens are fantastic at layering whilst maintaining it's true shade, especially when we're talking about a crisp white colour.

@Laslentejuelassv


@whasupbee
To recreate the look, we recommend using the white Uniball Posca pens with a 0.7mm tip or for even finer lines the ultra fine Uniball Posca pen.
Tip: if you make a mistake or the line isn't as straight as you wanted, just cover them with a black pen like the black opaque ones from Uniball Posca as well.

If you need a little bit more space per day and like using weekly spreads to organise your calendar, we think this one's a great example for that. This one uses a lot more color and focuses on a central illustration.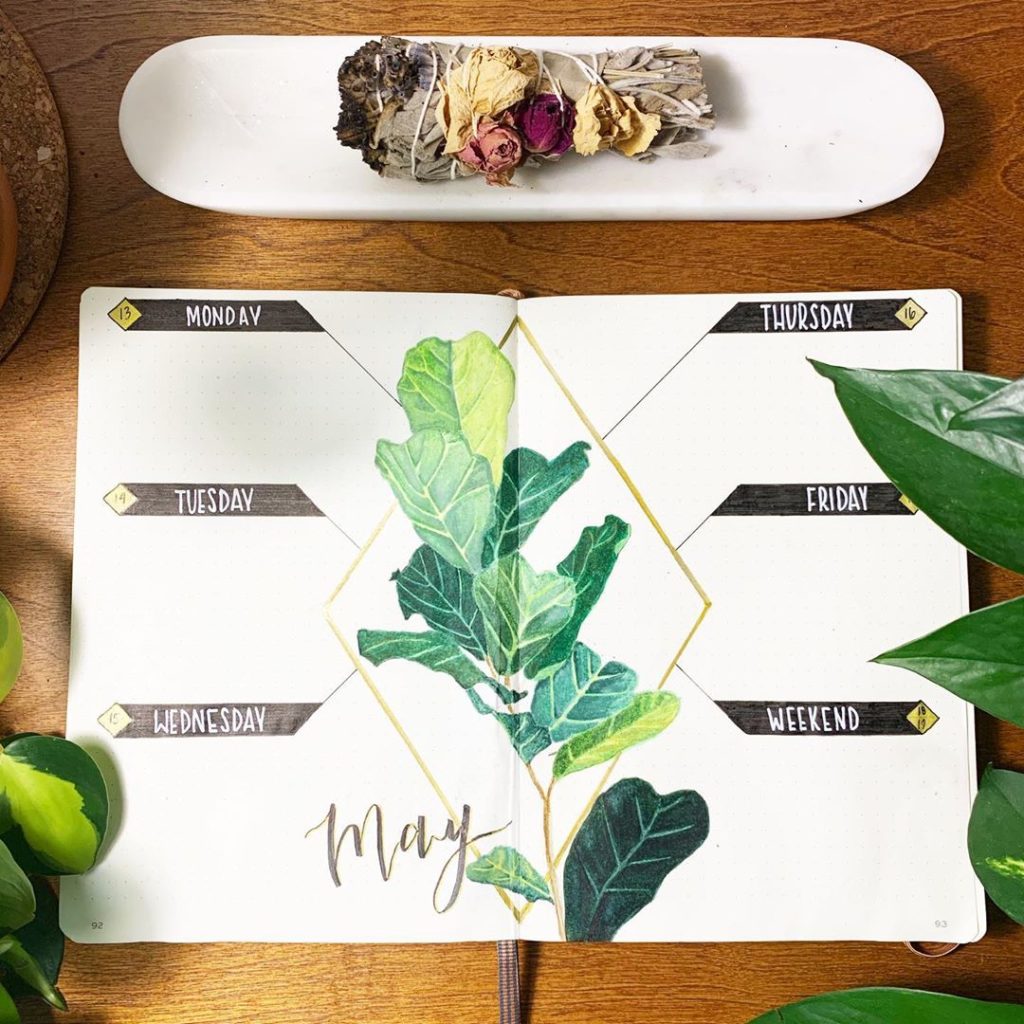 For the illustration in the middle, we recommend using the Stabilo Carbothello pastel pencils. Not only for its high-quality pigments and big choice in shades, but also its versatile application options like blending. Try adding water and blend with a brush for a more water-colour effect.

If you feel like you want to add even more depth, the Chameleon Color Tones are a great fit. These colour-changing pens are made to add dimension to any design.
Track It Down
A tracker is a great way to stay on top of things as well. And since your health is probably one of the most essential things to keep track of; we're sharing these great examples with you.


@_coffeeandsarcasm_


@bonjour_bujo
Because a lot of trackers naturally require a lot of lines and fine work for graphs and such, using a fine liners that doesn't stain or smudges would be ideal. Pens like the Stabilo Sensor and pointMax have proven to do the job perfectly.

Again, when you're adding a splash of colour to charts or graphs like these the Stabilo Carbothello pastels and the Chameleon pens would be ideal.
Another great idea we thought you'd love is a tracker dedicated to your travels. This one's for America but it could be applied to any part of the world, really.

Just like in our previous example, outlines are best created with the Stabilo drawing pens. But then, you have the most satisfying part: colouring in of the places you've visited! You can choose your own colour pallet when doing so… However, we think you should discover these cute pastel highlighters if you haven't already. Design by lettering artist Hannah Rabenstein, these BOSS MINI Pastellove highlighters will make your bullet journal spread ridiculously pretty.

Put It On The Lists
I don't know about you but we love making lists. Some are more relevant than the others but we appreciate list of any form or size.

You can create a list preparing for a trip by listing all the things you'll need to pack. Or you can create a list of things you love, like books or quotes.


@journaliving


@leelajournals
If anything, the list will take up most of the space on your spread so there won't be a lot of room to add extras. However, we think these minimal spreads look amazing! These designs don't require a lot of supplies either, a good fineliner, a highlighter to add a pop of colour and that's you!

Free writing
We all know that feeling when our brains about to explode. Sometimes the only way to make this better is to dump it all out on paper. Ideas, random thoughts, everything! Although translating our thinking onto paper might seem messy, that doesn't mean your spread design needs to be.

@bujojane


@carlinginink
We think both of these look fantastic and leave lots of room for reflection and writing.

Or spreads dedicate to journaling, they have a similar approach, design-wise as well.


@martaolivenzia_


@dessies.journal

We're definitely aware of the fact that having a comfortable pen to write with is vital if you're going to fill up several pages. We think using the Stabilo Bl@ck rollerball pens will save your hands from cramping.

Hopefully this post gives you a major creativity boost and will make your list-loving self excited about starting some new spreads soon. Happy Journalling!